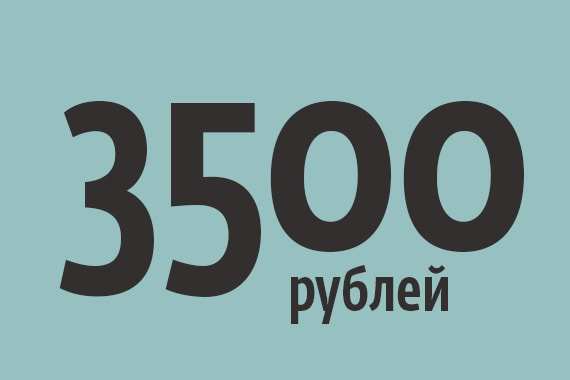 "3,500 rubles." Graphic courtesy of Vedomosti. At the current exchange rate, 3,500 rubles is worth approximately 46 euros.
Some Can Only Afford Macaroni, But Some Cannot Even Afford That
Saratov Official's Suggestion to Spend 3,500 Rubles on Food a Month Is a Reality for Millions of Russians
Tatyana Lomskaya
Vedomosti
October 19, 2018
The statement by Natalya Sokolova, minister for labor and employment in Saratov Region, that 3,500 rubles a month was enough for the "minimum physiological needs" of Saratov pensioners so angered the public that she was made an ex-minister in a matter of days. Ms. Sokolova had insisted it was not worth raising the monthly minimum cost of living for unemployed pensioners by 500 rubles: an increase of 288 rubles would be enough.
"Macaroni always costs the same," she said.
Ms. Sokolova, however, refused to go on such a diet by way of an experiment. Her status supposedly did not allow it.
But is it only Saratov pensioners who subsit on such a meager diet? Let's compare them with other regions.
The authorities calculate the amount of the mountly minimum cost of living on the basis of the cost of the monthly minimum food basket. They add to its cost (which is 3,500 rubles in the case of Saratov pensioners) the exact same amount of money for paying for non-food items and services, for example, clothing, housing, and utilities. The monthly minimum cost of living for pensioners in Saratov Region was therefore 7,176 rubles (95 euros) in the second quarter of 2018. It was 9,354 rubles (124 euros) for the region's able-bodied residents, and 9,022 rubles (120 euros) for its children.
That is not much, but there are even poorer regions in Russia. For example, in Belgorod Region, an able-bodied resident should be able to live on 8,995 rubles (120 euros) a month, while a pensioner should be able to survive on 6,951 rubles (92 euros) a month. In Mordovia, the corresponding figures are 9,132 rubles (121 euros) and 6,975 rubles (93 euros) a month; in Chuvashia, 9,248 rubles (123 euros) and 7,101 rubles (94 euros). The federal monthly minimum cost of living is 11,280 rubles (150 euros) for an able-bodied person, 8,583 rubles (114 euros) for a pensioner, and 10,390 rubles (138 euros) for a child. Meaning that, on average, the monthly diet in Russia as a whole is only a little more expensive than the Saratov diet: between 4,000 rubles (53 euros) and 5,500 rubles (73 rubles).
The monthly minimum food basket includes the cheapest groceries. It is meant to provide an individual with the necessary amount of protein, fats, and carbohydrates for a month, explains Liliya Ovcharova, director of the Institute for Social Policy at the Higher School of Economics. The basket mainly contains baked goods, a few eggs, lots of porridge, milk, and an altogether small amount of meat. According to Ms. Ovcharova, the diet will keep a person alive. It is another matter that it is "tasteless" and below rational norms of consumption, flagrantly lacking in meat, vegetables, and fruit. It is not surprising people find this diet unacceptable.
In 2017, however, the incomes of 13.2% of Russians were below the minimum cost of living, meaning that 18.9 million people in Russia could not afford even the macaroni snubbed by the ex-minister in Saratov. This figure includes children: one in five Russian children lives in family whose per capita income is below the minimum cost of living. Among old-age pensioners, however, there is practically no one who is officially poor. If their incomes are below the minimum cost of living for pensioners, they receive an additional payment to help them top up to the minimum. Children in large families are not eligible for these additional payments.
The question is what is now the more realistic approach: making the diet more humane or reducing the number of people who cannot afford even an inhumane diet. For example, the government could first reduce the number of children in need to 5%, and then improve the diet. Vladimir Putin ordered the government to reduce the number of needy people by half by 2024. If we now increased the minimum cost of living by 50%, the number of poor people would, on the contrary, double, Ms. Ovcharova estimates.
But the number of poor people can be measured not only on the basis of the minimum grocery basket, a standard that was introduced back in the 1990s. In European countries, for example, people with incomes of 50% of the median have been considered poor since the 1950s. At the same time, the Europeans base their calculations not on minimal but on rational norms of food consumption, Ms. Ovcharova notes. They compute how many specific vitamins, minerals, iron, and calcium a person needs. This food basket is much pricier and presupposes a completely different level of consumption and well-being.
It is probably best not to count how many Saratov pensioners can afford this food basket until 2024.
Translated by the Russian Reader