Vladimir Balukh's 100 Days: The Crimean Euromaidan Supporter Has Been on Hunger Strike in Remand Prison for Over Three Months
Anna Kozkina
Mediazona
June 27, 2018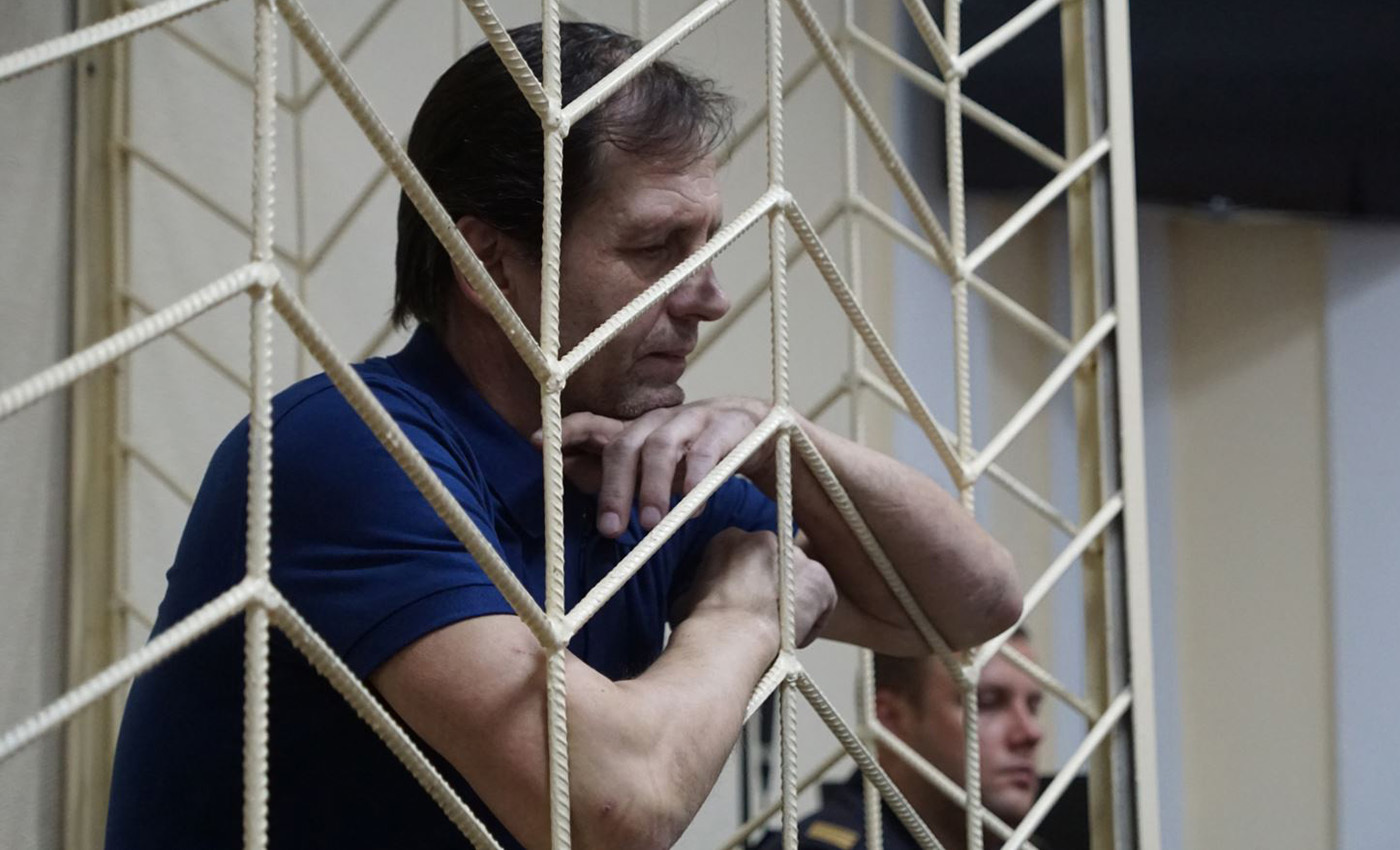 Vladimir Balukh. Photo by Anton Naumlyuk. Courtesy of RFE/RL
Today [July 1, 2018] is the [104th] day of a hunger strike by Vladimir Balukh, who awaits a verdict in his third criminal trial in Simferopol Remand Prison. In 2014, he refused to accept Russian citizenship, raising the Ukrainian flag over his house in solidarity with the Euromaidan protests. The first criminal case against Balukh was opened in 2015. It would be followed by two more case. In the article below, Mediazona catalogues the persecution the Crimean activist has endured and describes his hunger strike, during which he has lost at least thirty kilos.
On June 22, 2018, Balukh, who is imprisoned in Simferopol Remand Prison, said he was returning to the harsher form of hunger strike and would now only be drinking water. Balukh had been drinking fruit drink for some time.
Olga Dinze, Balukh's defense attorney, said the cause was increased pressure from prison wardens. In court, Balukh had spoken of regular searches of his cell, including at night. According to him, prison wardens and guard have hinted it was time for him to "go down in the hole," i.e., be sent to solitary confinement.
The following day, Ukrainian human rights ombudsman Lyudmila Denisova requested Pierre-Emmanuel Ducruet, head of the International Red Cross's Simferopol office, visit Balukh at the remand prison and secure professional medical care for him.
The Flag, Heaven's Hundred Heroes Street, and the Insulted FSB Agent
In late 2013, Crimean farmer Vladimir Balukh raised a Ukrainian flag over his house in the village of Serebryanka in solidarity with the Euromaidan demonstrators. The flag stayed there after the March 2014 referendum. Balukh did not recognize Crimea's annexation by Russia and refused to apply for a Russian passport.
Police and Russian Federal Security Service (FSB) agents first paid him a visit in the spring of 2015. Balukh was not home when they arrived. When he heard about the visit to his home by the security services, he stayed with friends for several days. The police and FSB searched Balukh's house and also paid his mother a call.
The security services visited Balukh for the second time in November 2015. Claiming he was suspected of auto theft, they searched his house again. After the search, the farmer was charged with insulting a government official, a violation under Article 319 of the Russian Criminal Code. Allegedly, Balukh had used "foul, insulting language when addressing field agent Yevgeny Baranov, which the latter found unpleasant." Balukh did not deny he could have sworn at the field agent, since FSB officers had punched him in the kidneys and stepped on his head after throwing him on the ground.
In February 2016, the Razdolnoye District Court found Balukh guilty, sentencing him to 320 hours of community service. Subsequently, the Crimean Supreme Court sent the case back to the lower court for review, but in June the district court reaffirmed its original guilty verdict, again sentencing Balukh to 320 hours of community service.
The Ukrainian flag was torn down from the farmer's house again and again, but he put it back up every time. On November 29, 2016, the third anniversary of the Euromaidan protests, Balukh hung a sign on his house, identifying the address as "Heaven's Hundred Heroes Street, 18." Two weeks later, police and FSB carried out yet another search of his house. This time, they allegedly found eighty-nine rounds of ammunition and several TNT blocks in the attic. After the search, the flag and the street sign were removed from Balukh's house. Balukh was detained and later remanded to police custody.
Balukh was charged with illegal possession of weapons and explosives (Article 222 Part 1 and Article 222.1 Part 1 of the Russian Criminal Code). The farmer claimed his innocence and said his political stance was the reason for the criminal prosecution. He claimed the rounds of ammo and explosives were planted during the search. Police allegedly found them in the presence of a single official witness.
The Memorial Human Rights Center designated Balukh a political prisoner. It noted that he had received clear threats after hanging the street sign on his home memorializing the murdered Maidan protesters.
"It was after this that the chair of the village council and his deputies visited Balukh's home and threatened that his independent behavior would have unpleasant consequences, including the 'discovery' in Balukh's house of weapons or narcotics. He demanded  Balukh take the sign down," wrote Memorial.
Memorial argued that the prosecution had not proven the ammunition actually belonged to Balukh, since his fingerprints were not found on the items.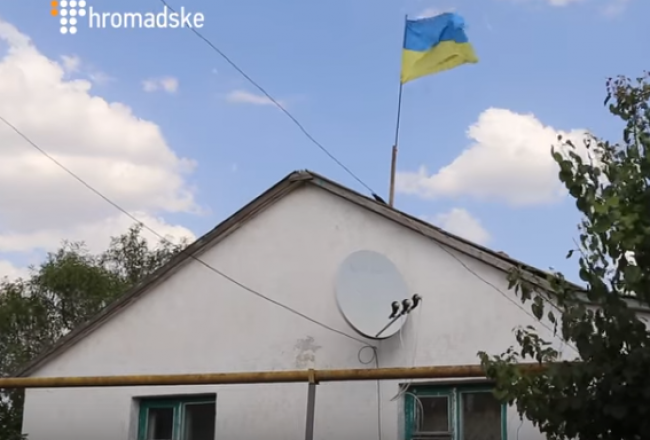 Vladimir Balukh's House. Photo courtesy of hromadske.ua
"Go to Ukraine and Treat Your Back There"
On August 4, 2017, the Raznodolnoye District Court sentenced Balukh to three years and seven months in a medium security penal colony and a fine of ₽10,000 [approx. €136] for possession of the ammunition and TNT.
A week after Balukh was sentenced, he had a run-in with Valery Tkachenko, warden of the Razdolnoye Temporary Detention Facility. According to Balukh, Tkachenko punched him in the shoulder and tried to kick him as well. He also, allegedly, made insulting remarks about the ethnicity of Balukh and his parents. Balukh's attorney filed a complaint with the police.
Two weeks later, the Investigative Committee opened a case against Balukh himself, claiming he had violated Article 318 Part 1 of the Criminal Code (violence against a state official). Subsequently, Balukh's alleged actions were reclassified as a violation of Article 321 Part 2 (disrupting the operations of penitentiary facilities). According to police investigators, on the morning of August 11, 2017, Balukh had elbowed the warden in the stomach while his cell was being inspected. He then, allegedly, entered his cell and struck Tkachenko's arm.
In November 2017, the district court commenced its review of the ammunition possession case, and in December Balukh was transferred from the remand prison to house arrest.  After complaining of pain in his back and groin, Balukh was soon taken to hospital straight from the courtroom.
At the district hospital, medical staff merely measured his blood pressure and gave him a cardiogram. After listening to Balukh's complaints, the local doctor said, "My back hurts, too. Should I not go to work or what?"
Balukh asked the court permission to travel to Simferopol or Feodosia for a medical examination, but his request was turned down. During his December 27 court hearing, the ambulance was called several times due to Balukh's temperature, high blood pressure, and back pain. According to the news website Krym.Realii, the head physician of the local hospital's emergency department, Nadezhda Drozdenko, told Balukh, "Go to Ukraine and treat your back there." When the hearing went on for ten hours, Balukh lay down on the floor due to the severe pain.
In early 2018, the court again found Balukh guilty on the ammunition possession charge and sentenced him to three years and seven months in a work-release penal colony. The verdict was upheld on appeal, although the sentence was reduced by two months.
Balukh was again sent to the remand prison. He has continued to complain of back pain, whose cause doctors have never been able to diagnose.
"He Has Adopted a Stance of Hopelessness"
After the Crimean Supreme Court upheld the verdict in the ammunition possession case, Balukh went on an indefinite hunger strike as of March 19, 2018. He gave up all food, only drinking water and tea, protesting what he regarded as the illegal verdict against him.
In late March, Balukh was assaulted in the remand prison and hospitalized in the infirmary, as reported by Aktivatika, who quoted defense attorney Olga Dinze.
"The hunger strike has been difficult for him. Besides, the prison wardens have engaged in constant provocations. They have brought him delicious food, enticing him to eat. It destabilizes him a bit, but he has hung and kept his word," said the lawyer.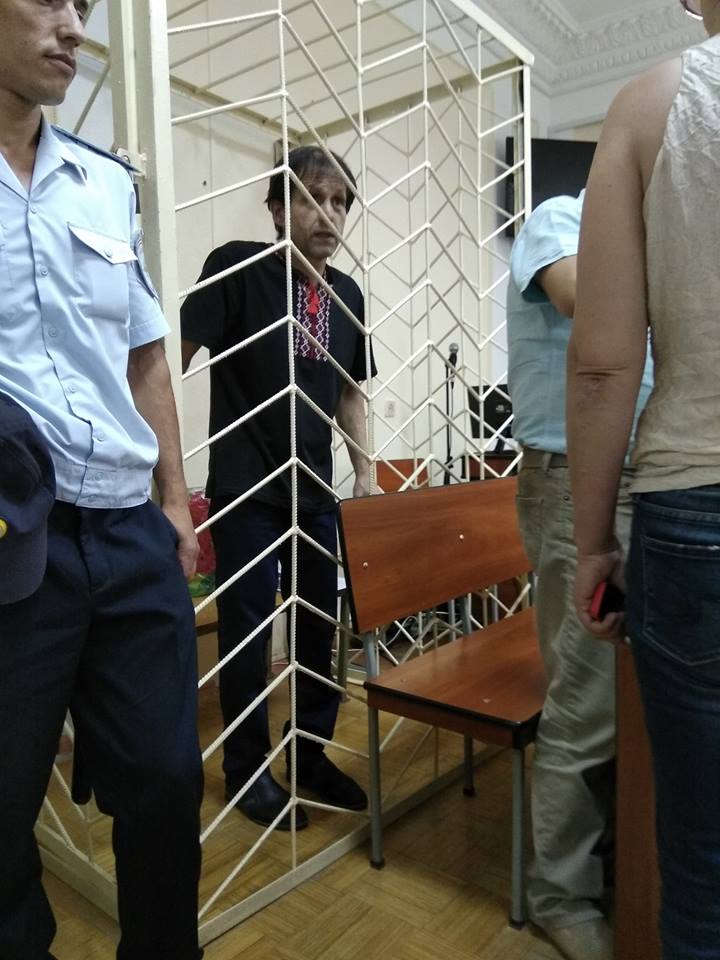 Vladimir Balukh on June 22, 2018. Photo by Zair Semedlyaev. Courtesy of crimeahrg.rog
In mid April, his social defender, Archbishop Kliment of Simferopol and Crimea, reported Balukh had been assaulted by guards.
A month later, Vladimir Chekrygin, an expert with the Crimean Human Rights Group, told Krim.Realii Balukh was under pressure in the remand prison.
"We know the guards at the remand prison have periodically threatened Balukh for his actions. They have told him that sooner or latter he would be punished for his willfulness. They have been doing searches in his cell night and mornings. Searches are permitted, but at certain hours and under extraordinary circumstances. They are not letting him rest," Chekrygin explained.
On May 18, Russian human rights ombudsman Tatyana Moskalkova visited the Simferopol Remand Prison. She wrote to her Ukrainian colleague, Lyudmila Denisova, that Balukh had no complaints either about the conditions of his incarceration or cruel treatment.
In May, the Raznodolnoye District Court began hearing the third criminal case against Balukh, involving his run-in with the temporary detention facility warden. During the trial, even the prosecution's witnesses, guards at the facility, testified Balukh did not assault the wardeb. During the investigation, the alleged victim refused to take part in a face-to-face confrontation with Balukh, who described his behavior in great detail to the judge.
"He would come to my cell and try to insult me, to humiliate me for being Ukrainian and thus, as he thought, for being a member of Right Sector. He would say us Ukrainians should be murdered as a species, and so on," said Balukh.
On June 10, Balukh was again transferred from Razdolnoye to the Simferopol Remand Prison. There he was put in the "glass," a narrow cell in which one can only stand or sit, for two hours, Crimean human rights defenders reported.
The following day, it transpired the remand prison wardens no longer believed Balukh was on hunger strike. The guards had learned Balukh was drinking not only water but also oatmeal kissel. Archbishop Kliment had persuaded Balukh to make the compromise a month after he started his hunger strike.
"Vladimir agreed. We know  he began consuming only kissel. Sometimes, he has honey and bread crumbs at most. At some point, the prison wardens found out about the kissel and decided not to recognize his actions as a hunger strike. There are special rules when wardens decide a prisoner has gone on hunger strike. They have stopped following these rules when it comes to Balukh, since they believe he is no longer on hunger strike. But Vladimir has continued his protest. He has lost thirty kilos of weight. The doctor from the remand prison infirmary has stopped making regular checkups of Balukh, although he is obliged to do so when inmates go on hunger strike," explained Olga Skripnik, head of the Crimean Human Rights Group.
Protesting constant inspections in the remand prison, Balukh returned on June 22, 2018, to the original form of his hunger strike. He has again been only drinking water. Olga Dinze explained the frequent searches of Balukh's cell as a consequence of Balukh's having filed a motion to be paroled for his first criminal conviction.
On June 25, Dinze told Mediazona her client's condition had taken a turn for the worse.
"I think Balukh has suffered a pinched nerve. It is a quite serious case. He has been experiencing severe pain in his chest, neck, and shoulder blades. He feels unwell all the time," Dinze said, adding the new symptoms were probably due to long-term back pain.
According to Dinze, Balukh was not receiving medical care.
"He refuses cares from the doctors in the remand prison. They cannot give him the medical care he needs, diagnose him, and prescribe him appropriate treatment. He has requested doctors from the Red Cross," said Dinze.
The defense attorney added that, after Balukh stopped drinking oat kissel, he was transferred to a cell in the general population, but the conditions there were decent. He currently has no complaints against the wardens.
Earlier, Dinze told Krym.Realii Balukh had been hoping for a prisoner exchange.
"Vladimir is quite weary. He is emotionally exhausted. He has adopted a stance of hopelessness. He says no one will ever release him from prison. If they cannot keep him in prison on the current convictions, there will be new charges. So now he is finally talking. For the last few months we have been talking about how, if there is a prisoner exchange and everything goes well, he would really, really like to go to mainland Ukraine," said Dinze.
The Ukrainian authorities have recently repeatedly stated their readiness to exchange Russian convicts for the sixty-four Ukrainian nationals imprisoned in Russian remand prisons and penal colonies, including Balukh and filmmaker Oleg Sentsov, who has been on hunger strike since mid May.
Closing arguments in Warden Tkachenko's case against Balukh have been scheduled for July 2.
Thanks to Yegor Skovoroda for the heads-up. Translated by the Russian Reader