The crackdown against Russians who oppose the war with Ukraine continues. Two new articles in the administrative offenses code and the criminal code — Articles 20.3.3 and 280.3, i.e., making it a crime to "discredit the Armed Forces" — have been specially adopted to punish those who call the war a war. But they have been enforced by the courts and the security forces in a such a way that grounds can be found in anything — a placard reading "Fascism will not pass," a placard containing an anti-war quote by Putin's, leaflets containing the biblical commandment ["Thou shalt not kill"], asterisks instead of letters, the inscription "Two words" [i.e., "No war"] — for detaining and charging someone. Police in Nizhny Novgorod did not like placards that read "Mariupol. We remember, we grieve" and "Give birth yourself!"
A photo of a young woman holding a placard featuring a man in black cradling a bomb and the slogan "Give birth yourself!" gained fame far beyond Nizhny Novgorod in March. The woman in the photo was the school teacher and feminist Maria Petrovskaya. She had not been involved in public protests before. According to her, the war was her turning point.
"There is a certain last straw," says Petrovskaya. "All my friends were on Bolotnaya Square, and then on Sakharov Avenue. [This is a reference to the "fair elections" protests in Moscow in 2012.] I endorsed their stance and supported them emotionally, and it was around that time that I began to get a little interested in politics. And yet, as long as it was about the pro-Putin clique's political, territorial (e.g., Crimea), and financial ambitions, I was not so deeply worried about it. But war destroys and takes the lives of people on both sides. When it comes to the suffering of people, I can't stand on the sidelines."
The court hearing on the "Give birth yourself!" protest is still to be held, but the police charged Petrovskaya not with violating Article 20.3.3, but with the more familiar Article 20.2.5, i.e., "involvement in an unauthorized protest rally." Law enforcement officers decided that Ilya Myaskovsky, who photographed Petrovskaya, was a full-fledged participant in the picket, which meant that it was no longer a solo picket, but a "mass" protest.
But last week, the Sormovo District Court in Nizhny Novgorod fined Petrovskaya and Myaskovsky for their involvement in another protest, in memory of the victims of Mariupol, under Article 20.3.3. Petrovskaya says that, as in the case of the "Give birth yourself!" protest, it was entirely a feminist protest that Myaskovsky had nothing to do with. He only photographed a homemade cross made of branches on which the message "5,000 killed. Mariupol. We remember, we grieve" had been hung.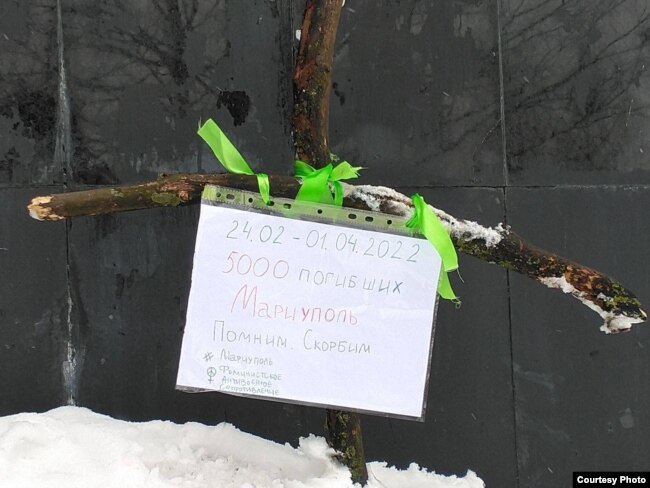 After the police took Petrovskaya to the precinct, Myaskovsky followed her in a jitney.
"For over an hour [Myaskovsky] hovered outside the doors to the police station, waiting for me. In the end, the inspector who was writing me up dragged him into the station as well. 'To talk,' as he said. Meaning that Ilya might not have been charged if he hadn't chivalrously followed me."
Petrovskaya and Myaskovsky were charged with "discrediting the Armed Forces." But Sergei Kulikov, a lawyer from the Visor Project who represented them, says that in court even the policeman who wrote out the arrest sheet could not immediately explain how Kulikov's clients had discredited the Armed Forces.
"'Can we say exactly who this text targets?' I asked the police officer [in court]. 'No,' he says. 'Does this text contain a negative appraisal of the authorities?' I asked him. 'No,' he says. Well, okay, I thought, let's take the bull by the horns. 'Does this text discredit the Armed Forces in any way?' I asked him, and he repled, 'No!" The police officer later realized that he had made a mistake, and asked to testify at the very end [of the hearing]. He said that in the context of everything that was happening, it discredited [the Armed Forces], of course! Who else was it about?" recalls Kulikov.
Both activists were fined: Myaskovsky, 30 thousand rubles [approx. 324 euros], and Petrovskaya, half that amount. The lawyer presented the court with written proof of Petrovskaya's low salary at the remedial school where she teaches, and the judge decided to show leniency.
People at Petrovskaya's workplace do not approve of her activism.
"After the "Give birth yourself!" placard went so vividly public, I was horrified to find that almost all my colleagues supported the war and had a positive take on what Putin was doing. They thought I was a disgrace to the school. The head teacher told me that her colleagues had been calling her all weekend, consoling her and asking her how I could have done such a thing. I was given a very long dressing-down, and so was the director, although he is already an elderly man. Everyone told me that I was throwing him and the [regional] education ministry under the bus, although it's hard to see how I could have done that," recounts Petrovskaya.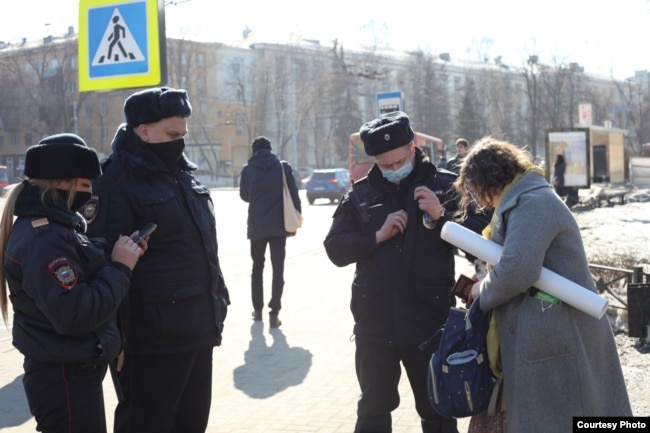 Kulikov argues that the police's lack of preparedness helped his client avoid the charge of "discrediting the Armed Forces" in this case.
"They probably had not yet been instructed what to do with this article. They have been instructed now. I know this for sure because there are two cases in which even pro-government picketers have been charged under this article. So, I think our policemen are performance artists, too. They have been given an absurd tool, and they are raising the absurdity to the next level! It's more like the law enforcement that the Soviet authorities practiced after the Revolution: 'revolutionary legal awareness'!" says the lawyer.
"If they fined people who held up a blank piece of paper or a placard with three asterisks followed by five asterisks [thus suggesting the Russian phrase Net voine ('no war'), which consists of a three-letter world and a five-letter word]… Or, for example, I saw an image of three bears and five bears drawn by a female artist, and she was fined, too. Toy bears in memory of dead children: yes, that discredits the army, of course," says Petrovskaya.
Last week, city hall announced a competitive review of Nizhny Novgorod's bomb shelters. The purpose of the review is to maintain the shelters "in constant readiness so that they can be used for their intended purpose."
Source: Alexander Lugov, Radio Svoboda, 11 April 2022. Translated by the Russian Reader