Archbishop Pitirim of Syktyvkar has called on his parishioners to rally not around Christ, but around Putin, calling the West "the enemy of the human race."
"After [hearing] the appeal made by His Eminence the President (on supporting the war – ed.), I considered it my duty to appeal to all the clergy, monastics, and God-loving laypeople of the Syktyvkar Diocese of the Russian Orthodox Church, as well as to all the patriots of our Northern Region, to rally even closer around our supreme military and political leadership and our valiant army, which, as in the years of the Great Patriotic War, is defending our earthly Fatherland from the insidious enemy of the human race.
"Only by joint prayer and tireless military efforts will we be able to contain the enemy and erect a strong barrier to the West's aggression."
It should be noted that "the Great Satan" is Iran's traditional name for the United States. Meanwhile, the Head of the Spiritual Assembly of Muslims of the Russian Federation, Mufti Albir Krganov, invoked the same metaphor in a speech he made during Eid al-Adha.
Previously, Pitirim (who had already taken holy orders) expressed his pride at being awarded the rank of Cossack colonel.
We should also add that Metropolitan Leonid, appointed Patriarchal Exarch of Africa, has devoted seven of his last ten posts on Telegram to the polemic with the "collective West." Leonid's position statements were published as part of the ROC's revenge on the Patriarchate of Alexandria for supporting Ukrainian autocephaly.
Source: Sota, 11 July 2022. Photo courtesy of Sota. Translated by the Russian Reader
---
The officers who raided Father Ioann Kurmoyarov's home reportedly seized his mobile phone, a laptop, two icons, a cassock and a wooden cross.
He was taken to a police station in St Petersburg, and allowed to make one phone call to his family.
He told them he had been arrested.
Father Ioann is believed to be the first priest imprisoned under laws introduced in Russia to punish those who spread information countering the Kremlin's narrative of the war.
"I am a prisoner of conscience, suffering for my beliefs. I consider the charges against me and my detention to be illegal," says Father Ioann now in a statement he dictated to his lawyer in St Petersburg's Kresty Prison.
Father Ioann adds that he is a Christian pacifist whose moral views are entirely based on the commandments of the Gospel and canons of the Russian Orthodox Church.
"Blessed are the peacemakers for they will be called the sons of God," and "Thou shalt not kill," are among the quotes he includes in his statement.
On 12 March, just over two weeks after Vladimir Putin launched his invasion of Ukraine, Father Ioann uploaded an eight and a half minute video to YouTube.
In it he said that those who unleash aggression would not go to heaven, and that in this case it was not Ukraine that attacked Russia but the other way around.
"You are the aggressors who attacked and killed civilians. You will not be in any kind of heaven, you will be in hell," he says of the Russian leadership.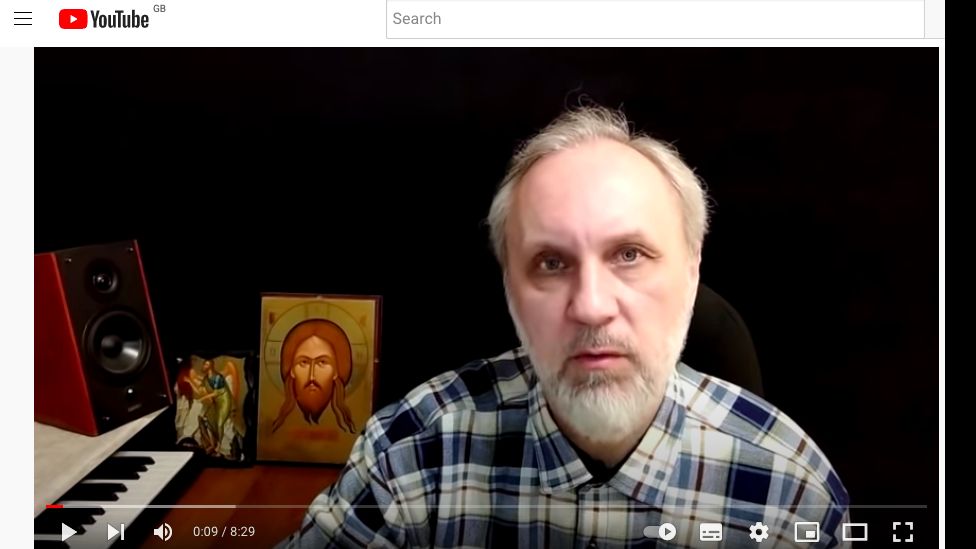 In his video Father Ioann goes on to compare the Russian invasion with violent "jihad" suggesting that bloodthirsty leaders in Moscow should have converted to become "militant Islamists", a theme that he kept returning to.
"We worried but we just didn't expect that he would be arrested," says his brother Alexander Kurmoyarov. He tells me that Father Ioann is currently serving an initial two month detention and is then likely to face trial.
"We thought maybe he would be given a warning by the police, but now we are worried that he will get 10 years in prison," he says, referring to the maximum sentence Father Ioann could receive.
The only visitor to have seen Father Ioann in Kresty Prison is his lawyer Leonid Krikun who says his client appeared to be in good health and also defiant.
"I told Father Ioann that if he pleads guilty he will probably get a shorter sentence, but he refuses to say he has committed any crime," Mr Krikun says.
"He says that he would rather serve a longer sentence than admit any wrongdoing and if that happens he will preach to fellow inmates."
Father Ioann has shown before that he is unafraid of speaking out. He was suspended from the church in 2020 after calling the newly-built Church of the Russian Armed Forces a "pagan temple".
The Cathedral in Moscow was the brainchild of Russian Defence Minister Sergei Shoigu and was due to house frescos that featured President Putin and Josef Stalin as well as scenes that celebrated the Crimean occupation.
In a social media post, Father Ioann said Mr Shoigu should be arrested for offending religious sentiment.
But what makes Father Ioann's story all the more unusual is that before he got in trouble with the Russian state, he also had a brush with the Ukrainian security service, the SBU.
Ioann Kurmayarov lived in Vinnytsia in central Ukraine for most of his life, his parents having moved there after his father retired from the Russian army.
"Even as a child he was always very outspoken, always searching for the truth," says his brother Alexander who speaks to me from Vinnytsia.
"It was in the church that he found a place where that search for truth was satisfied," says Alexander.
But in 2017, Father Ioann made the news in Ukraine for an act of defiance.
With Crimea annexed by Russia and parts of the east occupied by Russian-backed forces, Ukraine expanded laws banning Soviet symbols.
But Father Ioann posted pictures of one of the most controversial of them, the St George's ribbon.
He was taken in by police for questioning and the SBU brought administrative charges against him.
"He was not radically pro-Russia, he was standing up for freedom of speech and simply believed the authorities were doing the wrong thing by banning displays of the ribbon," says Alexander.
At the time Father Ioann said he was prepared to pay the fine, worth around $100 (£84.50), but said he would then openly wear the ribbon seeing as he had now paid for the privilege. The Ukrainian case against him was dropped.
He soon moved to Russia where he is already paying a much higher price for speaking out against curbs on freedom of expression.
In April he was defrocked by the Russian Orthodox Church's Moscow Patriarchate, though members of the Russian Orthodox Church Abroad (ROCA) say he has been accepted by them.
More pressing is that he remains behind bars at Detention Centre Number One in Kresty Prison with the prospect of staying there for years. His initial detention period ends on 6 August after which his trial date is due to be set.
"I want him to be found innocent, as a Christian who was talking about Christian values," says Alexander.
"But I worry about what is going to happen now and I worry about his future."
Source: Aleem Maqbool, "Russia-Ukraine war: Priest detained for criticising Putin," BBC News, 17 July 2022
---
There are tens of thousands of refugees from Ukraine in Russia. Some of them are trying to leave Russia for countries in Europe or the Transcaucasia, while others remain in temporary accommodation. Both groups are being helped by Russian volunteers. One of the informal leaders of this movement in Petersburg is Grigory Mikhnov-Vaytenko, a bishop of the Apostolic Orthodox Church and a member of the St. Petersburg Human Rights Council. Farida Kurbangaleyeva spoke with him about why he is not afraid of the Russian security forces, why Ukrainians are being taken to the Far East, and why the Russian Orthodox Church failed to oppose the war.
— How did you start dealing with the problem of Ukrainian refugees?
— In the very first days of the war, we thought about the Ukrainian nationals already living in Russia. According to various estimates, there were from eight hundred thousand to two million such people. We assumed they might have problems. I proposed to the Human Rights Council that we set up a hotline for Ukrainian nationals, and all my colleagues [on the council] supported me. Immediately, there was a large number of inquiries from people trying to leave Russia. In fact, if people's papers were in order, there was nothing complicated abut the situation. But while we were figuring it out, refugees from Mariupol reached out to us. Som of them wanted to leave Russia, while others wanted to stay. But all of them were asking for legal assistance.
— Could you have imagined that Ukrainians would be brought to Russia?
— To be honest, no. Although it didn't surprise me. I don't want issue any judgements now—for this you need to be inside these events. But if you believe what the people directly involved have been saying, there was no possibility of organized evacuation anywhere except to Russia. At least, that's what these people were told. And yet, when it is said that these people were taken to Russia by force, this is a somewhat inaccurate way of putting it.
— When I spoke with refugees from Mariupol, they said they had wanted to go to areas controlled by Ukraine, but that was tantamount to death—the humanitarian corridor was being shelled all the time.
— I don't question what they said. I accept it as a fact. There was a humanitarian corridor to Russia, and, apparently, it was quite safe. I know that some people also left for Ukraine, but mostly at their own risk and mainly those who had vehicles. There was no way out on foot, as far as I know.
— But isn't this violence on Russia's part?
— When we talk about forcible removal, what I see in my mind's eye are stills of German shepherds and people being struck in the back with rifle butts. There was no such thing [in this case], of course. But as far as I understand, people were not offered much choice. So, there was an element of there being no alternative. I personally am not ready to speculate about why it happened. I was not an eyewitness myself, and I have not seen any documents in this regard. I have only heard stories.
But it would be much worse if people who found themselves on Russian soil were legally subjected to forced detention, if the authorities prevented them from moving freely. According to my observations, they have not been prevented from doing this. Those who do not want to go to the proposed temporary accommodation facilities can safely go wherever they want.
It is another matter that these people have no money, that they have telecommunications problems, problems with paperwork. In this sense, the Russian state has not been providing them with anything. Ukrainian nationals could not cope without the volunteers who have been helping them obtain papers, board trains, and buy clothes and medicines, including prescription medicines, because there are people with chronic diseases among them.
— But why do the Russian authorities tell Ukrainian refugees to evacuate if they cannot provide for them? Is there no Pharisaism in this?
— I think there is an element of Pharisaism. But, again, now is not the time for making judgements. Now is the time for action. For example, I need to find a place for refugees to spend the night. Here we are talking, but at the same time I am corresponding on a chat, because another family is waiting for help.
The point is that what happened on February 24 is a crime—a crime against humanity, the unleashing of a war of aggression. Period. Everything else is a consequence of this crime.
We'll figure out a bit later who is a hero and who is a scumbag. But now everyone should do what they can where they can do it. Journalists should write stories, human rights defenders should defend human rights, and caring people should make moral decisions by sharing their apartments, cars, or their own time. Not helping a refugee—even from the point of view of a book called the Bible—is a very grave sin. As the saying goes, "for you were strangers in a strange land."
— How many Ukrainian refugees are currently in Russia? And how many camps are there?
— There are no official statistics. There are figures from different departments, and they radically contradict each other. The Russian authorities cite certain fantastic figures that are impossible to believe—860,000 people. I don't understand where they came from, because there are much fewer people in Mariupol. Are they from the Donetsk region? But there seemingly hasn't been a mass evacuation from there.
I think that these figures, as they pass along the chain through different departments, get zeros and ones added to them. I think that around one hundred thousand people have actually arrived in Russia from the war zone. Several thousand of them have already left, while a certain number of others are planning to leave.
We know of around five hundred temporary accommodation camps. That sounds scary, but you have to understand that there are places housing literally between fifty to seventy people. They're like small boarding houses. There are probably only a few large camps, like the one near Petersburg, where 550 people have been accommodated. Or, for example, there are around three hundred people at the camp in Vladivostok.
— But why have refugees been taken so far away? Do you have an explanation?
— To be honest, I don't see any special malicious intent in this. Apparently, somewhere in the presidential administration there was a request to all regions of the federation to ready sites for taking in refugees. And each region reported how many people it could take in. They are still trying to place these people in more or less normal conditions. These are not tent camps or barracks in the taiga.
The regions were also tasked with providing jobs and papers to the people who wanted them. It is clear that no region in the European part of Russia is ready to take in one hundred thousand people and give them jobs. Where would they find them? So, they began spreading people [around the country] as thinly as possible. Taking into account the size of the country, it turned out the way it turned out. We should be grateful that the most distant reception center is in Vladivostok, not Kamchatka.
— The buzz on social media is that this is another [mass] deportation.
— I don't want to use words lightly. And, since the phrase "special operation" was introduced, words don't function anymore, they're finished. The safety of people has been ensured, and tickets from Vladivostok to Moscow, Petersburg, or Tokyo cost no more than money. Of course, this is all redundant. But what can be solved with money is not the problem.
— Can people who have no papers at all leave Russia—for example, if they burned up during bombing?
— Refugees can receive a temporary document called a "Certificate establishing the identity of a foreign national or a stateless person." It's a very valuable invention. It is issued at police stations, and features a photo, a seal, and three signatures. With this document, a refugee can leave Russia.
To apply for this paper, a person must confirm their identity in any way. They can even submit an electricity bill, or provide witnesses. For example, a family leaves [Ukraine]: five of them have their papers, but the sixth does not. Cases when an entire family does not have their papers are rare. Besides, there is an analogue of Russia's Public Services Portal in Ukraine, so in ninety-nine percent of cases it won't be difficult to confirm a person's identity.
This document was introduced several years ago. As far as I understand, it was championed by the human rights activist Svetlana Gannushkina and her Civic Assistance Committee—because there were a large number of migrant workers in Russia, and their cases were different. Some people had lost their papers. Or, a person, for example, worked in Tyumen, but their country's consulate was in Yekaterinburg.
Clearly, the nearest Ukrainian consulate is located outside the Russian Federation. Fortunately, the Russian border service understands this, so [Ukrainian refugees] face no particular difficulties when leaving [Russia].
There are more complex dilemmas. For example, there are infants who were born in the now-infamous Mariupol maternity hospital and did not have time to receive any papers. I met a couple here: the dad and mom are legally married, they have plastic biometric cards, but the child's only ID is the tag it had on its hand or foot.
— Have you baptized any refugee children?
— I was asked to baptize two children, but at that moment there was no room ready. When I asked for a room to be readied, the baptism was postponed. I think we'll go there in a week. God willing, we will baptize them.
— Who are more numerous—the people who want to leave or the people who want to stay?
— The overwhelming majority (and among them there are people who are absolutely pro-Russian) say that their greatest desire is to get home. You ask, "But isn't everything wrecked there?" They reply, "That's okay, we'll rebuild it." We'll set aside how they imagine reconstruction from a political point of view—it's not about that. The point is that people want to return [to Ukraine]. And they will do so the first chance they get.
That's why, by the way, the vast majority of refugees do not apply for the fast-track Russian citizenship they are offered. They get either a temporary residence permit or a residence permit. Even those who don't want to go to Europe and say "We'll stay here for a while" still regard returning home as their ultimate task.
— How ethical is the offer of Russian citizenship under such circumstances?
— If we set aside February 24, it is something that is done within the concept that the Russian authorities have proclaimed.
— But we cannot set aside February 24, can we?
— That is why it is an outrage. But within this outrage, there may be things that are completely beyond the pale, and there may be things that, from a humanitarian point of view, make it easier for a person to live at a particular moment.
— It seems to me that this is like torturing a person and serving them cake during the breaks.
— But it's a slightly more complicated scheme if they are told, "Eat cake and we'll let you go." Purely practically, there are people who gave the orders to start shelling, others who set up a humanitarian corridor, and still others in the federal migration service who offer fast-track citizenship. All of them together constitute the state apparatus. But individually, they are different people—who, by the way, also have different judgementsd of what is happening.
A very great misfortune has come into our home. But now, I repeat, is not the time for judgements. Now is the time for action.
If a person asks you to give them underpants, a t-shirt, and a toothbrush, you don't need to ask them who they voted for in the previous election. You have to give them what they ask.
— If martial law is imposed in Russia, will refugees become more vulnerable?
— Such a turn of events would affect everyone. It's another matter that I have a rather low opinion of our government's administrative willpower. In Russia, things are usually loudly announced, but come to naught.
I strongly doubt that the authorities would impose martial law. Most likely, they will again make do by adopting hybrid measures so as not to call things by name, because the level of support for this whole business is quite low. In 2014, all the cars were decked out with Saint George's ribbons and everyone shouted joyfully, "Crimea is ours!" But now we see the letter Z only on Russian National Guard vehicles.
— What about the opinion polls?
— In an authoritarian country that is smoothly segueing to totalitarianism, the worth of such polls is quite low. People are well aware of what answers are expected from them. By the way, the latest poll by the Levada Center says that support for the war has decreased ten percent in a month. This is quite a serious drop, despite the fact that hysteria is being whipped up.
Yesterday, we sent abroad a [Ukrainian] family who had arrived from Astrakhan. They got to Petersburg by train without concealing from others who they were. They did not hide the fact that they were leaving our blessed country. People gave them food, and money, and toys. This is a very important indicator. All the people they met tried to make amends to them.
— Many volunteers also say that they do not go to protest rallies, but help Ukrainians because they feel guilty.
— Now is not a time when you can change the opinion of the authorities with a protest rally. Now there is a flesh and blood problem—the people who have ended up here [in Russia]. And a lot more problems will start to emerge, because the war does no one any good.
I have an appeal on my hands from two hundred families of conscript soldiers who, as you can guess, wound up in this war without any desire or legal grounds for it. But now the high command won't issue them papers stating that they were involved in hostilities [and are thus owed veterans' benefits].
Some of them were injured and need long-term rehabilitation and treatment.
It's called a "ruined life." A man goes into the army to serve the Motherland and comes home without legs. But he is told, "Actually, fellow, you're nobody, and we didn't send you there." I'm not even talking about those who came back in zinc coffins. War benefits no one except the idiots at the very top.
— If we go back to the statistics, the Ukrainian authorities say that about 200,000 children have been taken to Russia. It turns out that these numbers also don't jibe with yours?
— Unfortunately, the situation is so monstrous that I am not sure that there is even one agency that can responsibly cite exact figures about the refugees. Imagine: it is a war zone. Management at each individual site belongs to the operational command located there. From there, people are sent to a variety of pretrial detention camps in the Rostov and Belgorod regions, and so on. And from there they are sent further on.
How well are the records kept there? How systematic and accurate are they? Or do people cross the border and that's the end of it? If I understand correctly, the Russian border service should, theoretically, have more or less accurate data. It should also be borne in mind that among the refugees there are people who managed to get DNR-LNR passports, and people who managed to get Russian citizenship. Some are even citizens of third countries. My data revolves around the number I cited. Perhaps it is already larger. But in any case, it is tens of thousands of people.
— And what is happening in Russia with Ukrainian children who have been left without parents?
— This is the most important issue we are trying to deal with. Fortunately, so far we have not found documentary evidence of such cases. We know that a few days before the war started, an orphanage was evacuated from the DPR. As for all the other children from Ukraine who are in Russia, if they are not with their parents, they are with legal guardians—meaning grandmothers, grandfathers and so on. So we've read a lot of stories about total orphans, but we haven't encountered them yet.
— Do you know what to do if such children turn up?
— Theoretically, we do. In the interests of such a child, a lawyer would represent them with the consent of its legal guardians. This is a difficult job, because the Ukrainian side would have to be involved. I think we would solve the problem somehow.
— You now communicate a lot with children from Ukraine. They say that a child's psyche is supple, but surely war leaves an irreparable mark on it?
— Of course it does. We can do a deep dive philosophically and discuss when and how to talk to a child about death—what to do if its hamster has died. But what to do if a loved one has died in front of the child? Today, we helped a family travel on to Estonia. The father and grandfather were killed [in Ukraine]. The grandfather died in the arms of his grandson. The boy was barely eighteen years old. And his two younger sisters saw it. Words and tears fail me. This is monstrous.
— How do you find the right words for them?
— I don't try to find the right words. I try to behave in such a way that, perhaps, they themselves will feel like talking. Of course, post-traumatic syndrome is a very difficult situation. Very often people need to talk to a person who inspires confidence. But I'm not unique in this. All our volunteers are caring, empathetic people. And they all tell their own stories about the refugees.
A few days ago, we had a difficult case getting a family out of the country. The eldest son, who is seventeen years old, has a severe form of cancer. We carried out the evacuation along with the Ukrainian League of Oncologists, because the boy was scheduled for surgery in Switzerland. That was why the family was evacuated directly there, via Warsaw. One of the younger children, a three-year-old boy, has a shrapnel wound. That is, out of four children [in this family], two are in serious condition.
Naturally, this family communicated with our case managers. Our volunteer asked them a completely standard question in the chat: "Do you have pets? Do you need carriers?" And the mother of these children replied, "No, we don't need anything: our parrot was incinerated along with our apartment." Such details reveal the degree of horror that has been occurring there.
Yes, a child's psyche is supple, but we know that young prisoners kept their memories of Auschwitz for life. Many of those who survived have lived thoughtful, fulfilling lives. But this does not mean that they [the Ukrainian children] will forget everything. A lot will depend on the environment and the circumstances in which they find themselves. This is supremely hard work for many years to come.
— I can't help but ask you as an Orthodox priest: how do you feel about the ROC's position on the war in Ukraine?
— I feel bad about it. This stance was the basis for my leaving the ROC clergy—because I'd been seeing this position since 2014. Let's set aside all the theological chatter and just say it outright: the ROC is a public organization with members in two countries. Naturally, this public organization has all the levers it needs for getting involved in peacemaking and bringing people together. Instead, the organization a priori takes one side: these guys here are right, and those guys there are wrong.
This is no dialogue. This is the clerical habit of preaching from the pulpit, from the position of "I teach, and you listen." This has facilitated only one thing—a decline in the ROC's authority among the faithful both in Russia and Ukraine and around the world. Read what Pope Francis had to say about his conversation with [Patriarch] Kirill: [he called him] "Putin's altar boy."
— But why does Patriarch Kirill support this war?
— Kirill is a man of the system. He has his assignment, and he is carrying it out. His assignment is to support the party line. He is part of the Russian leadership. Recently, a friend told me that there is Rosneft [the Russian state oil corporation], and then there is Roschurch, the state corporation in charge of spirituality. Rosspirituality is probably the right name for it.
That's the wrong way of doing things, guys. In any case, [Patriarch Kirill] is the head of a powerful organization. It has tens of thousands of regional branches—let's call them that. It has tens of thousands of rank-and-file clergy. I'm not even talking about the millions of believers in Ukraine. And Ukraine is a much more religious country, a much more "observant" country than Russia. That is, they are people who don't go to church only out of obligation. Many people in Ukraine now say, "Yes, we are parishioners of the Ukrainian Orthodox Church in the Moscow Patriarchate. But, of course, it should stop communicating with Kirill. Of course, Kirill should no longer be our leader."
I'm not even talking about the huge number of people in Russia who say, "That's it, we're not setting foot in that church." [The ROC] doesn't have to condemn or anathematize Putin. But it can and should clearly explain the difference between killing and peacemaking.
— Does this mean that Orthodoxy as a whole is losing its reputation?
— The reputation of religion generally will be greatly devalued by this war. Because religious leaders, unfortunately, do not have sufficient resources for peacekeeping missions. Yes, I know a number of clergymen in Ukraine—they are not necessarily Orthodox, many of them are Protestants—who are working in the war zone, evacuating civilians and helping the wounded. This is the Church's business.
But the Church cannot make political decisions nowadays. Its word doesn't have the weight it did in the Middle Ages, when wars were stopped and started because the Pope said so. It has no such resources. And there is no Sergius of Radonezh in Russia nowadays who could seal off the churches in Nizhny Novgorod.
One could, of course, do a performance. I could go to Red Square and seal the doors of St. Basil's Cathedral. It would get written about, but it would be forgotten in five minutes, because [the Church] has now sway over minds. Society has long been de-Christianized.
— But the Pope has spoken out against the war, hasn't he?
— I have a lot of sympathy for Pope Francis. But the Catholic Church is not just the Pope. There are also a huge number of people who should have worked even more vigorously. Now, unfortunately, what the Pope says is not heard by those to whom it is primarily addressed. Putin does not hear [the Pope], and Kirill does not tell him what the Pope says. We have reached a dead end. This is the trouble with ecclesiastical diplomacy and the Church's influence.
— Do you cooperate with the Catholic charity organization Caritas?
— I don't have any prejudices about anyone at all, especially when it comes to humanitarian cooperation. People can be atheists to the fourth degree or Catholics to the eighteenth power, but I say, "Lord, what a blessing that there are people who care." Basically, we are willing to work with absolutely everyone—with the police, the border service, the Defense Ministry, the FSB. If it can be of real benefit to people, I say let's cooperate, let's look for a solution. If people are sitting and talking it's always better than when they are looking at each other through the sight of a gun.
— Some of the volunteers helping the refugees have now become targets of harassment. Aren't you afraid of this?
— I'm definitely not afraid of bullying. I didn't experience it in 2014, when I supported Ukraine. Although I was asked a lot of puzzled questions. I think that the events that are happening now with the volunteers have to do with the fact that one of the heads of the regional special services isn't quite up to his job. He misunderstands the state's goals and objectives.
I talked to the big bosses in Petersburg and got their full agreement that everyone who wants to leave [Russia] should be sent away as soon as possible. This is in the public interest. Because otherwise we end up with an unmanageable number of socially disadvantaged people who still have personal ties to Ukraine and may have grievances against the Russian state.
Today, they say they want to live here, but tomorrow? Are we sure? Maybe we should get them out of her faster? And if the state does not have the material resources to keep them here and send them off, then thank God that there are volunteers who are willing to help these people go quietly and calmly wherever they want. [The officials] thought it over. They said, "This is an approach that suits the state." I replied, "Well, you see."
— Is it true that volunteers do not unite in one big movement and instead operate as discrete partisan detachments intentionally so that the authorities don't harm them?
— We don't have time to unite in one big movement. We would start spending time on organizational work, on electing a chair—on nonsense. Now there is a simple task: a man arrives at a train station [in Petersburg] and writes, "I have three bags and four kids." He needs to be helped through simple efforts.
You can even just stand at the Moscow Station in Petersburg holding a sign that says, "I am driving refugees to Ivangorod." That's it. If you seem basically trustworthy, [the refugees] will approach you.
I am very happy (if I can say that at all nowadays) when I see thousands of volunteer chats. All my hopes rest on this.
People ask me, "Aren't you afraid that half of [the people on the volunteer chats] are officers in the special services?" If that's the case, then I'm doubly happy that they see and read everything. A person with the remnants of a healthy psyche cannot help but reach the right conclusions. It is a lot of fun to press a button and destroy an abstract opponent from afar. You listen to [pro-Putin TV talk show presenter Vladimir] Solovyov and go into battle for denazification. But when you come across people who have nothing to do with it at all—such as the dead grandfather [that Father Grigory mentioned, above] and the dad, who worked as an engineer at the Azovstal plant—you get a completely different picture.
— Aren't you afraid of being named a "foreign agent"?
— I am a foreign agent by definition, because I abide by the the laws of the Kingdom of Heaven. It is not subject to the jurisdiction of the Russian Federation. This does not mean that I would deliberately and maliciously violate the laws of the state. But there are primary laws and secondary laws. The primary laws are: do not kill, do not steal, and so on down the line. So it is shameful to be afraid.
I don't believe that I am violating the law by doing what I do. I obey it scrupulously. The law does not stipulate that the phrase "no war" is a crime.
Nor do I think that these words discredit the armed forces. I believe that they are words that any sane person would say. War is something that should not be part of humanity in the twenty-first century.
— Now you are you refraining from judging what is happening. When can we make this judgement?
— First of all, the fighting must end. Secondly, all refugees must find a home. It is clear that everyone won't be getting home anytime soon. And considering such dangers as the use of nuclear weapons, this whole business could drag on for a very long time.
But that day will come. Someday a peace treaty or an act of surrender will be signed. The guns will stop talking. Not only analysts, but also historians will start talking. Sooner or later, judges and prosecutors will have their say. It's a very sad spectacle. Of course, I would have rather that Russia had avoided this shock. But that didn't happen.
Source: Farida Kurbangaleyeva, "'I am a foreign agent by definition, because I abide by the laws of the Kingdom of Heaven': how a Petersburg priest who left the Russian Orthodox Church has been helping Ukrainian refugees," Republic, 10 May 2022. Translated by the Russian Reader