Involving Teenagers in Unauthorized Protest Rallies Could Cost as Much as One Million Rubles
Experts Say Authorities Won't Find It Hard to Prove Charges
Olga Churakova
Vedomosti
July 11, 2018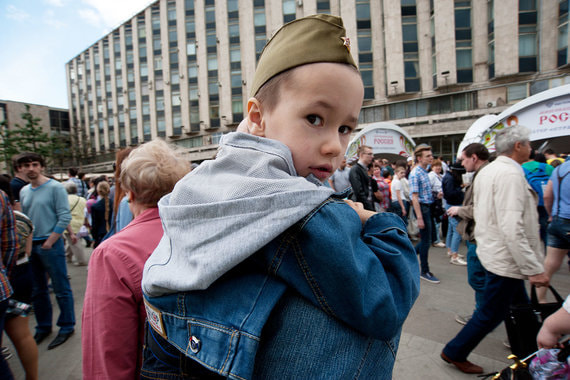 The State Duma plans to introduce hefty finds for involving teenagers in unauthorized protest rallies. Photo by Andrei Gordeyev. Courtesy of Vedomosti
On Tuesday, the State Duma's Family Affairs Committee gave the go-ahead to a law bill that would introduce penalties for "encouraging" teenagers to attend unauthorized protest rallies. On Monday, the bill was approved by the government's Legislative Affairs Commission. In its written appraisal of the bill, the Family Affairs Committee recommended clarifying the minimum age at which offenders would be held liable for violations, although the relevant committee reviewing the bill is the Committee on Constitutional Law.
Tabled by Alyona Arshinova, Anatoly Vyborny, and other United Russia MPs, the law would amend the Administrative Violations Code to include penalties of 15 days in jail, 100 hours of community service or a fine of 50,000 rubles for individuals who encourage minors to attend unauthorized protest rallies. Fines for officials would range from 50,000 to 100,000 rubles, while fines for legal entities would range from 250,000 to 500,000 rubles. A repeat violation could send individuals to jail for up to thirty days, while legal entities would be fined as much as one million rubles [approx. €13,800].
"In my experience, there is no such thing as a perfect law bill. As for the current bill, the relevant committee has not yet meet to discuss it," says Vyborny.
However, Vyborny is certain the amendments are necessary.
"Children cannot resist the negative influence of adults. It matters to them to express themselves, and we hope this bill will deter them from ill-considered actions. Administrative liability will be a deterrent," he says.
What matters is that young people are not drawn into a culture of legal nihilism, the MP argues. According to Vyborny, the bill does not aim to punish minors, but protest rally organizers. Hence, the age limit is defined in the bill.
OVD Info estimated that ninety-one teenagers were detained on May 5, 2018, in Moscow at an unauthorized protest rally to mark the inauguration of Vladimir Putin as president for the fourth time. According to OVD Info, at least 158 minors were detained nationwide on May 5 at similar protests. OVD Info estimated that a total of 1,600 people were detained that day.
Lawyer Oleg Sukhov says proving protest rally organizers are in violation of the new law would be a piece of cake. Rallies are organized in different ways, including personal contacts and public announcements.
"Our government is planning to deter all means of organizing protest rallies. It realizes this work on the part of the opposition will only intensify over time not only via the web but also through communication with young Russians," notes Sukhov.
The main point is the government would not have to prove anything, argues Sukhov. Minors will go on attending protest rallies. Whenever they tell police they saw an announcement on the web, the organizers will be charged with violating the law according to a fast-track procedure.
"Clearly, the law will be enforced selectively. It's a classic manifestation of the so-called mad printer. The terms used in the wording of the bill are not defined at all. For example, what does it mean to 'encourage' a teenager to attend a rally? Can teenagers attend rallies? They can. So, how do we figure out whether they attended on their own or were 'encouraged'? We can't," says Navalny's righthand man Leonid Volkov.
Volkov does not believe the law will be effective since protesters have been paying fines as it is.
"It is no accident this attempt to intimidate young people made the news today, the same day the Investigative Committee released a video about a teenager who goes to prison for reposting ['extremist' items] on social media. Of course, this will only produce new Primorsky Partisans," Volkov concludes.
"Extremism Is a Crime," a video posted on YouTube on June 25, 2018, by the MultiKit Video Studio. The annotation to the video reads, "A public service video on the dangers of extremism, produced by MultiKit Video Studio for the Russian Investigative Committee's Altai Territory Office. The video will be shown in schools to prevent such crimes."
__________________________
__________________________
Alexei Avetisov. Photo by Emin Dzhafarov. Courtesy of Kommersant
Youth Policy Finds a Direction
Kremlins Finds a Specialist in Subcultures and Extremism
Sofia Samokhina, Maxim Ivanov and Lada Shamardina
Kommersant
July 11, 2018
Kommersant has learned Alexei Avetisov, member of the Russian Public Chamber and president of the Russian Student Rescue Corps, could join the Office of Public Projects in the Kremlin. Avetisov has been tapped to head the Department for Combating Extremism among Youth. Ksenia Razuvayeva, head of Rospatriotcenter (Russian Center for the Civic and Patriotic Education of Children and Young People) has been named as a candidate for head of the Department of Youth Policy in the Office of Public Projects. Both candidates would still have to be vetted by the Kremlin.
Alexei Avetisov, member of the Russian Public Chamber and president of the Russian Student Rescue Corps, could head the Department for Combating Extremism among Youth in the Kremlin's Office of Public Projects. Currently, the Office of Public Projects, which is run by Sergei Kiriyenko, the president's first deputy chief of staff, has no such department. Our sources say Mr. Avetisov would be tasked with overseeing youth subcultures and decriminalizing the youth scene, in particular, by dealing with the popular AUE network of criminal gangs. The Presidential Human Rights Council discussed the issue with Vladimir Putin in December 2016.
Olga Amelchenkova, head of the Victory Volunteers Movement and member of the Russian Public Chamber, told us there were few organizations in Russia involved in volunteering in emergencies, and Mr. Avetisov was one of the few people who had constantly brought up the subject in the Public Chamber.
An acquaintance of Mr. Avetisov's said his Russian Student Rescue Corps had brought many universities together. The organization took part in the first Taurida Camp held after the annexation of Crimea in 2014, an event attended by MPs and high-ranking officials. From 2015 to 2017, Mr. Avetisov was director of Territory of Meanings on the Klyazma, a youth education form, sponsored by Rosmolodezh (Russian Agency for Youth Affairs). His main job at the forum was providing technical support for the camp.
On June 6, Znak.com, citing its own sources, reported law enforcement agences were investigating Territory of Meanings on the Klyazma and, in this connection, "questions for the forum's ex-director Alexei Avetisov could arise." The website indicated companies allegedly affiliated with Mr. Avetisov had for several years been awarded "lucrative" contracts for constructing venues at the forum. The firms in question had no experience implementing government contracts. Currently, some of the companies have either gone out of business or are dormant, wrote the website.
Timur Prokopenko, deputy chief of staff in charge of the Office of Domestic Policy in the Kremlin, had been in charge of youth forums in recent years. He also handleded youth policy in his capacity as head of the Office of Domestic Policy. However, on June 14, a presidential decree turned youth policy over to the Office of Public Projects.
Territory of Meanings staffers. Photo from the camp's VK page. Courtesy of Znak.com
Gazeta.Ru has reported that Rospatriotcenter head Ksenia Razuvayeva could take charge of the Office of Public Project's Department of Youth Policy. Before taking over the running of Rospatriotcenter, Ms. Razuvayeva ran the Moscow branch of the Russian Volunteers Union and collaborated with the Young Guard of United Russia (MGER), which Mr. Prokopenko ran from 2010 to 2012. Ms. Razuvayeva would not confirm to us that she was moving to the Office of Public Projects Earlier, a source of ours in the Kremlin said she might not make it through the vetting process. Another of our sources noted a possible conflict of interests was at play. Ms. Razuvayeva also told us it was the first time she had heard about Mr. Avetisov's moving to the Office of Public Projects.
"The vast majority of Young Guardsmen and other pro-regime activists brought up through the ranks in the past decades are supremely focused on their careers. The system simply spits out anyone else," political scientist Abbas Gallyamov told us.
According to Gallyamov, "Changing colors for the new boss and refusing to have anything to do with people they worshipped only the day before are quite ordinary for this crowd."
"Therefore, it does not matter whose people they were considered yesterday. They will be loyal to any boss, just because he or she is the boss," Gallyamov added.
Translated by the Russian Reader