Justice Ministry Explains It Designated Republic a 'Foreign Agent' Because Foreign Embassies Subscribed to the Publication • Novaya Gazeta • 20 January 2022
The Russian Justice Ministry has explained that it placed the news and commentary website Republic on its register of media "foreign agents" because foreign embassies and Russian branches of foreign organizations had paid for subscriptions to the publication's paywalled articles. The news was broken by Republic editor-in-chief Dmitry Kolezev on his Telegram channel.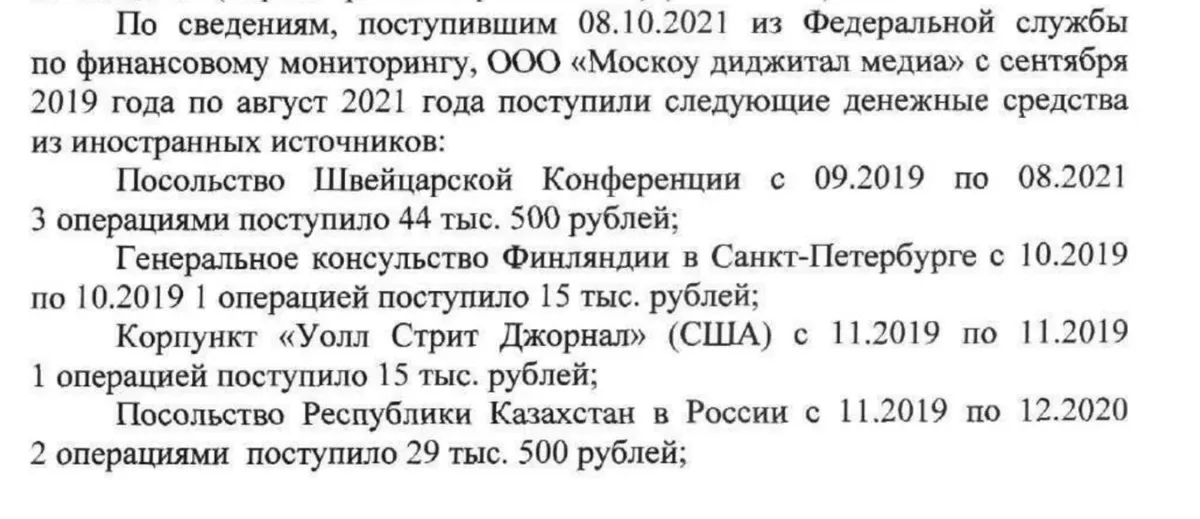 The ministry claims that the publication received funds from the "Embassy of the Swiss Conference" [sic], as well as from the foreign missions of Finland, France, Lithuania and Kazakhstan in Russia. In addition, according to the excerpted statement, the Wall Street Journal, the Russian office of the Friedrich Naumann Foundation, and the Kazakh firm Eurasia Metals Company had transferred money to Republic's account.

"As we guessed, the formal reason was that foreign legal entities such as the embassies of France and Kazakhstan, the Wall Street Journal, etc., had paid for subscriptions in the amount of 14,800 rubles [approx. 170 euros] per year. Over two years, the Justice Ministry found a total of 178,500 rubles [approx. 2,000 euros] worth of such 'foreign financing' — we calculated that it was about 0.18% of our overall turnover," Kolezev wrote. 
On 15 October 2021, the Justice Ministry added Moscow Digital Media (Republic) to its register of Russian media outlets functioning as "foreign agents." Kolezev told Novaya, then, that Republic was funded exclusively by subscribers, and that its founding organization did not have any sources of external financing.
Full disclosure: I've subscribed to Republic for several years running. And, on many occasions, I have translated and published their articles here, especially ones by their perpetually clear-eyed and sardonic editor and commentator Ivan Davydov. I translated this article too. If you want this "media outlet functioning as a foreign agent" to keep on chugging, share my posts on social media and make a donation via PayPal or Ko-Fi. ||| TRR