Finlandization 3.0, apparently, involves joining NATO to keep the Russian imperialists at bay while simultaneously issuing as many Schengen visas as possible to Russian shopping tourists, who are totally clueless, of course, as they make their triumphant return to the hypermarkets of Lappeenranta, the setting of the hit Nordic noir series Bordertown. Its on-the-spectrum protagonist can barely keep his head above the bloodbath routinely unleashed in the town, which in real life is utterly peaceful and lovely. What is not lovely is the utter cynicism of Lappeenranta's political and commercial elite, who are, strangely, much more like their fictional counterparts than the real town is like its lush but murderous onscreen double. ||| TRR
---
Russian shopping tourists are now coming by the busload to a border town in Finland, waiting weeks to make the trip: "It's about time"
The effects of the border's [re]opening are already visible in Lappeenranta. The number of Russians is nowhere near the record years, but they seem to have purchasing power.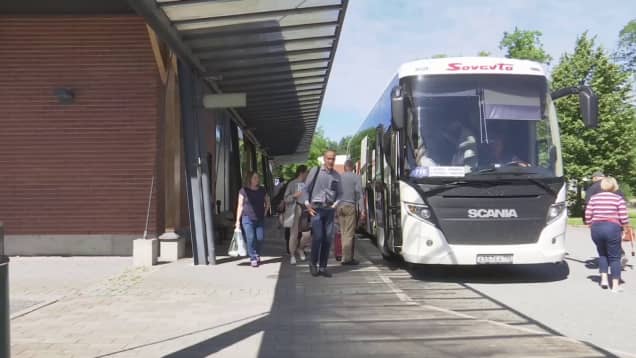 A Sovavto bus from Russia turns in front of the Lappeenranta bus station.
There's a full load of people exiting the vehicle. One of them is Andrei Kolomytsev of Petersburg. For him, a trip to Finland is a dream come true after a long wait.
"Two and a half years of waiting. It's about time, " he sighs.
Last Friday, Russia lifted travel restrictions that it had imposed in response to the coronavirus outbreak last Friday.
Kolomytsev had been one of the first to arrive in Finland in his own car. However, his trip was halted at the Russian border in the morning, because Russia unexpectedly opened the border only at 1 p.m. Kolomytsev had already turned around and headed back home.
Now he's happy to step off the bus.
"I'll go to a cafe, and buy cheese and other high-quality food. I'll have a look around after a long time," Kolomytsev outlines his plans.
He also plans to visit a local car dealership specializing in Volvos to ask about maintenance prices. This is because it is now difficult to get car spare parts in Russia due to Western sanctions. As a result, car maintenance has also become more expensive.
Buses full
Buses to Finland from Petersburg are now fully booked. For example, the Ecolines booking portal has no tickets available from Petersburg to Lappeenranta until August 16.
Another bus company, Sovavto, has no seats available until July 26.
The return of Russian shopping tourists to the shops is already visible in Lappeenranta. There are clearly more Russian cars with long plates on the streets and in parking lots.
The number of Russian customers has also increased, for example, at Lappeenranta's branches of [Finnish hypermarket chains] Citymarket and Prisma.
"The number of Russians has increased since Friday. While it used to be a matter of lone customers, now we are talking about numbers in the dozens," says Antti Punkkinen, Prisma's director in Lappeenranta.
Ari Piiroinen, the storekeeper at Lappeenranta's Citymarket, has a similar message.
"The number of Russians has increased steadily since the weekend, " he says.
But there is still a long way to go to return to the state of affairs before the coronavirus pandemic.
"It is absolutely not possible to talk about numbers like they were in 2019 or earlier," Punkkinen says.
He stresses that it has only been a few days since the border opened, so it is still too early to draw conclusions about the future number of Russians.
The arrival of Russians is limited by, among other things, the number of valid visas. Russian media have reported long waits for visas in Petersburg, for example.
They're not visible everywhere
However, the increase in Russian shopping tourists is not visible everywhere in Lappeenranta.
For example, the opening of the border has not been felt in terms of shoppers at the IsoKristiina shopping center in the downtown.
"I haven't noticed any significant change. The number of shoppers is about the same," says Matti Sinkko, IsoKristiina's manager.
They're buying what they used to, and they seem to have money
According Antti Punkkinen at Prisma, the contents of the Russian shopping basket appear to have remained more or less unchanged.
"They're mainly buying foods: cheese, coffee, and baby foods, as well as certain detergents. As far as home and speciality goods are concerned, Russians have been interested in clothes during these few days," Punkkinen says.
The contents of the shopping bags of Vladimir Vapilov of Petersburg, strolling the aisles at Prisma, seem to bear out Punkkinen's words.
"I bought jeans and sneakers and cheese and chocolate," he says.
According to Punkkinen, the Russians also seem to have enough money.
"The Russians seem ready to buy," he says.
Source: Kalle Schönberg, Yle, 21 July 2022. Thanks to Tiina Pasanen for the link. Translated, from the Finnish, by the Russian Reader, who wonders why the residents of Bordertown were not out in droves picketing Russian shoppers.