Historian Yuri Dmitriev Released from Police Custody
Nikita Girin
Novaya Gazeta
January 27, 2018
Historian Yuri Dmitriev has been released from the pretrial detention center in Petrozavodsk on his own recognizance, Dmitriev's defense attorney Viktor Anufriyev has informed Novaya Gazeta.
"Yuri Alexeyevich was already home at eight in the morning. Everything is fine, his mood is good," said Anufriyev.
On the eve of the release, the historian's eldest daughter Yekaterina had been told by officials in the pretrial detention center that Dmitriev would be released only on Sunday, January 28.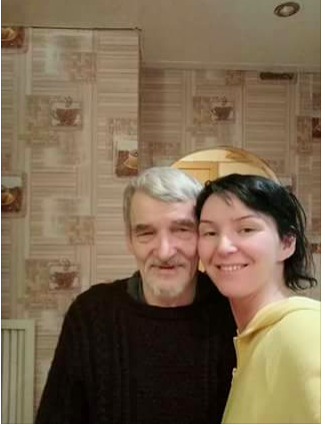 Yuri Dmitriev with his daughter Yekaterina Klodt. Courtesy of the Delo Dmitrieva (Dmitriev Case) Facebook page
Dmitriev has been accused of using his underage foster daughter to produce pornography. The case against him is based on nine photographs, found on his computer, in which his foster daughter is depicted without clothes. Dmitriev claimed he photographed the girl naked to monitor her development and report to children's services. (There are hundreds of similar photographs on Dmitriev's computer, but police investigators have no complaints with them). Novaya Gazeta has published the explanation that Dmitriev provided to investigators and psychiatrists.
On December 27, 2017, the court turned down the prosecutor's request to extend Dmitriev's term in police custody and ordered Dmitriev released on his own recognizance on January 28.
Translated by the Russian Reader