Historical Fantasy
Andrei Zakharov, A Crossroads in Time: The New Rossiyans (Alfa Kniga, 2012)
None of our contemporaries who decided to vacation on the shores of a mysterious lake in the Chernobyl Exclusion Zone expected the trip would change their future. A natural disaster and encounters with Red Army soldiers, surrounded near Kiev in 1941, and a detachment of White Guards from 1919 were not part of their plans. But man proposes and God disposes. They did not know who wanted to test them—God or someone else—by gathering and abandoning them in the mountains of South America in the sixteenth century, during the collapse of the Inca empire and its conquest by Spanish conquistadors. But the trials that befell their lot forced all of them to unite and start a new life.
Source: LitRes
Translated by the Russian Reader
_______________________
Police, Nationalists Clash As Russians Mark National Unity Day
Radio Free Europe/Radio Liberty
November 04, 2017
Police detain protesters at the nationalist march in Moscow. Photo courtesy of Maxim Shemetov/Reuters
Riot police and nationalist demonstrators clashed in Moscow on November 4 at an antigovernment demonstration coinciding with celebrations of Russia's National Unity Day holiday.
Police detained several demonstrators in a crowd of nationalists who had gathered in southeastern Moscow for an annual Russian March that organizers called off almost as soon as it began after police refused to allow participants to carry banners.
Organizers said authorities had granted approval for banners at the demonstration. The city government had given official permission for the rally, and hundreds of participants had gathered for the event at the time police intervened.
Video footage showed one woman being carried off in a stretcher after what a Dozhd TV reporter at the scene described as a scuffle with riot police.
A second Russian March, meanwhile, was under way in northwestern Moscow.
The standoff between police and demonstrators came at the start of a politically charged weekend in which Russians nationwide are marking National Unity Day.
The holiday, which the Kremlin established more than a decade ago, has replaced Soviet-era celebrations of the Bolshevik Revolution anniversary.
This year's holiday comes three days ahead of the centennial of the 1917 Bolshevik Revolution.
A day before the celebrations, Russian authorities on November 3 said they had detained several backers of a self-exiled Kremlin critic in the Moscow area, claiming they were plotting to trigger riots by attacking government buildings and police during the holiday.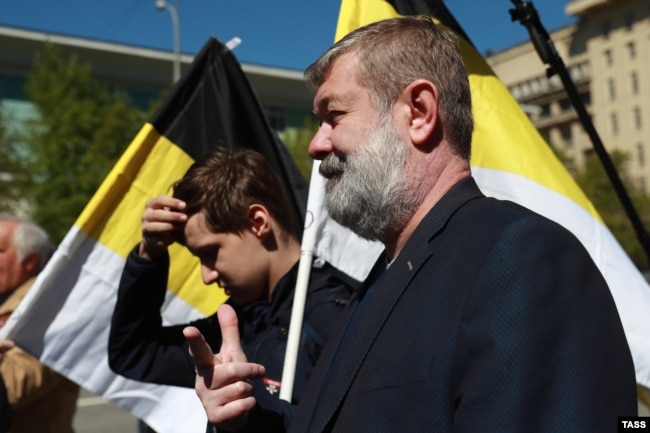 Russian opposition politician Vyacheslav Maltsev (right) at a Russian opposition rally on May 6, 2017. Photo courtesy of TASS
The Federal Security Service (FSB) said the suspects are members of a "conspiratorial cell" of Artpodgotovka (Artillery Bombardment), a movement established by outspoken opposition activist Vyacheslav Maltsev.
Maltsev, who has described himself as a nationalist and anarchist, has said on YouTube that Russia is up for a "revolution" this weekend.
RBC news agency cited an unidentified Interior Ministry source as saying that a spate of additional raids targeting Maltsev's group were carried out in Moscow and the surrounding area on early on November 4.
Russia's state TASS news agency quoted officials as saying that more than 90,000 security personnel will be on duty for some 2,000 Unity Day events across the country.
Nationalists traditionally hold rallies on November 4, while Russians nostalgic for the Soviet Union, such as the Communists, celebrate on November 7.
National Unity Day, which President Vladimir Putin established in 2005, officially honors a Russian victory over Polish forces in 1612.
In a ceremony commemorating the event, Putin on November 4 placed flowers at the Red Square monument to Kuzma Minin and Dmitry Pozharsky, who are credited with leading Russian troops against the Poles.